Aanbieding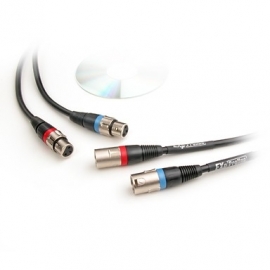 MIT EXp Proline Balanced Interconnect
€ 225,00
€ 149,95
Gastenboek
02-01-2020

- 8 voudige stekkerdoos besteld, zeer snel geleverd, het bestellen kost... 

lees meer

29-10-2019

- 220 doos 8 voudig met Schuko stekker besteld en keurig... 

lees meer

22-05-2018

- Vrijdag 18 mei, na telefonisch advies van Erik, 2 Belden... 

lees meer
Plaats een bericht
Viablue S-920 Silver high-speed HDMI® 2.0b kabel met ethernet
Viablue S-920 Silver high-speed HDMI® 2.0b kabel met ethernet vanaf 79,95

Leverbaar in de lengtes 0.75(79,95), 1.0(82,95), 1.5(89,95), 2.0(94,95), 3.0(99,95), 4.0(104,95), 5.0(109,95), 7.5(119,95), 10.0(179,95), 12,0(189,95), 15.0(199,95) meter.

ViaBlue™ pure high end cables are made from premium materials only. Silver plated OFC copper braids with high cross section ensure highest transfer rates of both audio and video signals.

The ViaBlue™ triple-layer shielding technology grants 100% distortion-free signal transfers.

24K gold-plated connectors provide optimal contact and pure output.

What else?
HDMI® 2.0b
Backwards compatible with all HDMI® versions
Oxygen-free copper
Soft ultra-resistant PVC jacket

ViaBlue™ special features included:
24K Gold-plated ViaBlue™ Black Metal Plugs for HDMI®
ViaBlue™ Ferrite Filters 11: Ferrite Filters suppress the amount of high frequency electromagnetic interference (EMI)
ViaBlue™ Cobra durable outer polymer mesh sleeve

Technical specifications:
Max. video resolution: 4K UHD (4096 x 2160 Pixel) @ 50/60Hz (2160p)
Wide angle 21:9 video aspect ratio support
Bandwidth up to 18 Gbps
High Dynamic Range video (HDR - High Dynamic Range) capable
Dynamic synchronization of video and audio streams
Up to 32 audio channels
Audio sampling rate up to 1536 kHz
Dolby Digital Plus
TrueHD
Ethernet up to 100 MBit
Audio return channel (ARC)
Cross section: AWG 24
24K Gold-plated connectors
ViaBlue™ Ferrite Filters 11
Cable diameter: 10.5 mm
Triple-layer shielding: 100%
Compliance: HDCP, HDMI® Authority, RoHS