Aanbieding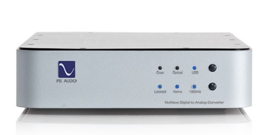 PS Audio NuWave DAC demo model
€ 1.295,00
€ 795,00
Gastenboek
02-01-2020

- 8 voudige stekkerdoos besteld, zeer snel geleverd, het bestellen kost... 

lees meer

29-10-2019

- 220 doos 8 voudig met Schuko stekker besteld en keurig... 

lees meer

22-05-2018

- Vrijdag 18 mei, na telefonisch advies van Erik, 2 Belden... 

lees meer
Plaats een bericht
Furutech FT-SWS-D NCF
Furutech FT-SWS-D NCF Rhodium is a dual-gang Schuko AC wall socket which adopts the Nano Crystal Formular (NCF). This technology uses two active materials to treat the body of the socket. the first is "nano crystal" particles which have a piezo electric damping converting vibrations to thermal energy. the other active ingredient generates negative ions that eliminate static.
SPECIFICATIONS
• Rhodium plated α (Alpha) Pure Copper main Conductor (t:0.5mm)
• Insulation Materials: Nylon/fiberglass incorporating special "NCF" anti-resonance damping material - nano-sized crystalline, piezo ceramic particles and carbon powder.
• 1.0mm thick Bracket with a Zinc/steel brace plate
• Carbon fiber finished Cast Zn-Mg Alloy Front Plate
• Specified for wire diameters of 2.8mm or 5.5 Sq.mm/10AWG Max. (set screw)
• Dimensions: 152.0mm (L) x 81.0mm (W) x 48.0mm(H)
• Furutech's total attention to detail and build quality extends right down to a specially designed patent-pending pressure plate that increases the contact area of the Alpha Conductors.