Aanbieding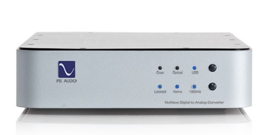 PS Audio NuWave DAC demo model
€ 1.295,00
€ 795,00
Gastenboek
08-07-2020

- Een voorgemonteerd stekkerblok en voorgemonteerde power cable besteld bij Erik.... 

lees meer

02-07-2020

- Topservice en supersnel geleverd. Had aanvankelijk de verkeerde connectors besteld... 

lees meer

27-06-2020

- Wederom top geregeld door Erik!

Op een donderdag mailtje met bestelling... 

lees meer
Plaats een bericht
Viablue SC-2 Silver-Series luidsprekerkabel
Viablue SC-2 Silver-Series luidsprekerkabel.

leverbaar afgewerkt met adereindhulzen of T6s connectors.

prijzen vanaf 109,95, afhankelijk van lengte en connectors.
afgewerkt met adereindhulzen: 1,5 meter 109,95, 3,0 meter 135,95, 5,0 meter 169,95, 8,0 meter 225,95, 15,0 meter 349,95.

afgewerkt met T6s bananen : 1,5 meter 159,95, 3,0 meter 189,95, 5,0 meter 229,95, 8,0 meter 279,95, 15,0 meter 399,95.

Single-Wire speaker cables with silvering.

Terminated with 24 K gold-plated crimp sleeves.

Complete frequency range.

Through the combination of silver-plated and tin-plated leads, the finest details and brilliance of the treble range as well as the lower frequency signals of the bass range are fully carried and powerfully reproduced through the attached speakers. Both 4 mm
2leads of the SC-2 speaker cable consist of seven-stranded lays with a total of 448 individual wire conductors. In order to customize the sound range for the individual frequency ranges, half the strands have genuine silver plating for accurate reproduction of the high range and half the strands have tinned copper strands for powerful accentuation of the bass. The SC-2 speaker cables have ViaBlue™ Cobra sleeve around them that even at first glance displays the dynamics of the high-end speaker cables.

Dynamic sound. Maximum Quality. Pure design.

The SC-2 speaker cables are braided with the ViaBlue™ Cobra protective sleeve, which also affords at first glance a visual impression of the dynamic quality of the high-end speaker cables. The splitters typically used with ViaBlue™ cables protect the cable ends from snapping off and, at the same time, provide a professional, well thought out cable routing of the single leads.
Technical specifications:
Outter diameter: 11.0mm
Conductor cross section: 2x 4mm²
Connectors: crimp sleeves
Finishing: silver-platted / tinned
Inductance: 0.49 µH / m
Marking: black / red
Play in time: appr. 25 hours